DTG LOUISVILLE, APRIL 7-8, 2018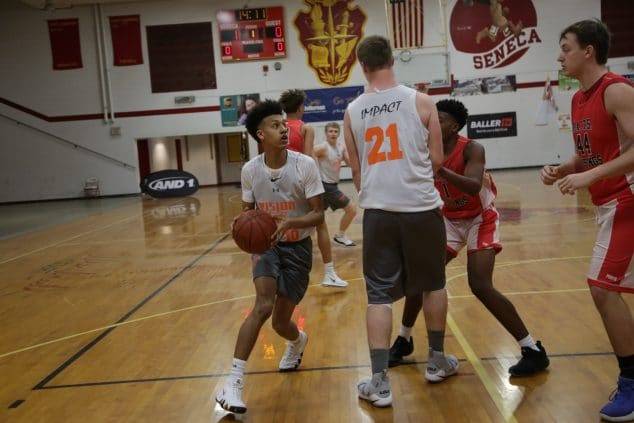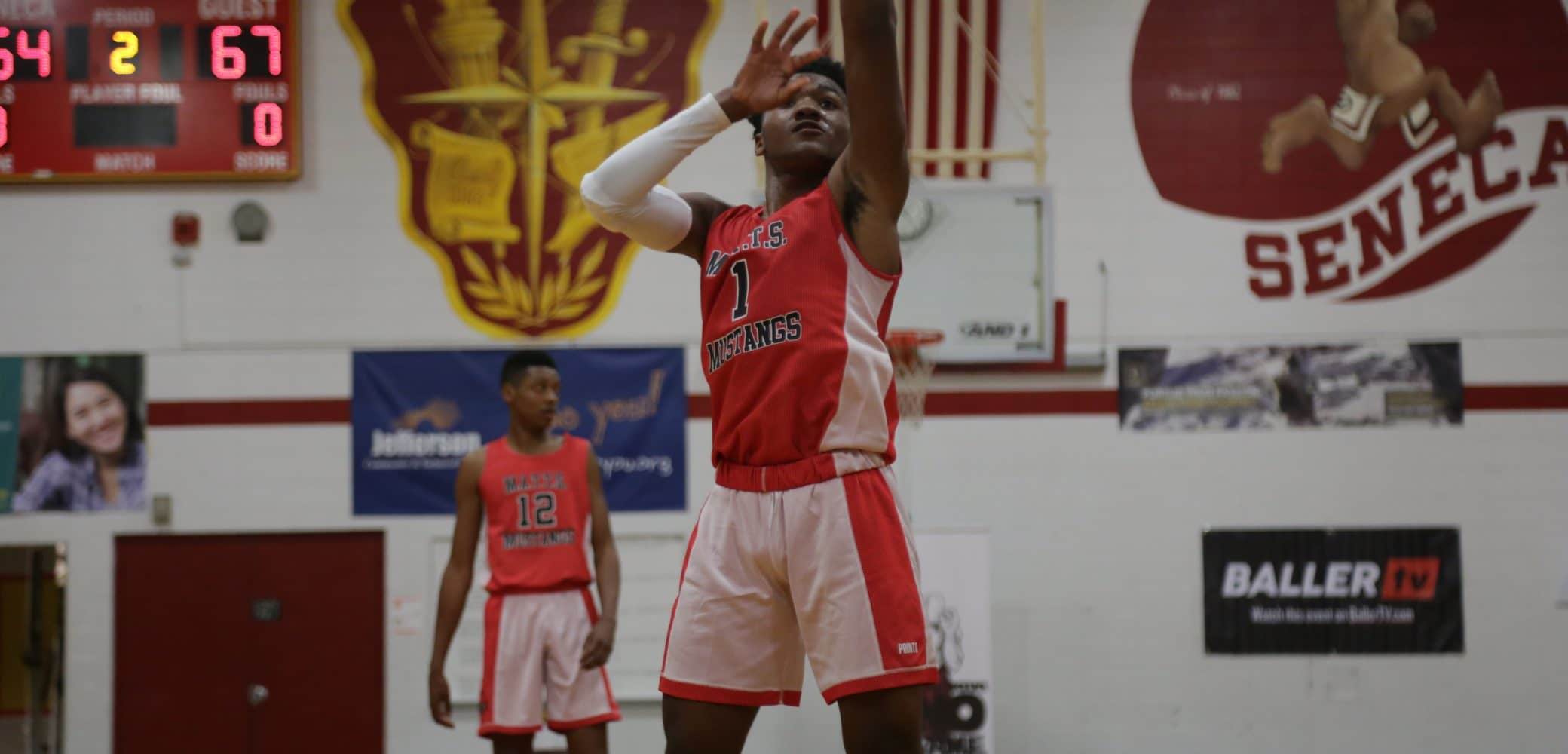 RECAP OF DTG LOUISVILLE, APRIL 7-8
The AND 1 DTG Kentucky Regionals were held in Louisville, KY, earlier this month. Overall the weekend was a great success with plenty of great basketball, including teams from all over the midwest and southeast.
The championship game for the 17U division was a nail bitter. Vision Elite 2019 is a team to watch out for this spring and summer. They went 5-0 with big wins over Southern Indiana Shock, Tennessee Vision and M.A.T.T. Mustangs. Vision Elite 2019 was crown champions at the end of the tournament but it wasn't a cake walk. It came down to Vision Elite vs. M.A.T.T. Mustangs in the 17U division championship. Vision Elite 2019 had a slow start but finished strong in the last game. One thing about Vision is they showed no quit in them after being down 18 points in the semifinal against TN Vision and double digits in the championship game. Vision coach Thomas Bechtel was telling his guys to wake up and to play with more intensity and they did just that after trailing by double digits in the first half. Late in the second half, Chase Sanders hit a three-pointer to tie the game at 60 a piece. After a couple of missed shots and a key turnover by the Mustangs, Nick Martin came up with win.
Players of the game for Vision was Nick Martin, who finished with 17 points. He had 2 monster dunks during the game that brought the crowd to their feet. Chase Sanders scored 16 points and grabbed several rebounds. When there was a big shot that needed to be made Nick and Chase would step up to the challenge. Varion Martin scored 10 of his 12 points in the second half, playing aggressive all game. 6'4 Spencer Free from Harrison County High School is a shooter and has a nice pull up game, ultimately finishing with 15 points.
M.A.T.T. Mustangs 16U is a very talented team and well balanced. They played strong over the weekend as they played up a division. They are looking forward to having a great AAU season this year. In the championship game, the Mustangs went up by double digits in the first half and did a great job of controlling the tempo early on. Kybrin Smith from Taylor County High School (KY), Dayvion Mcknight from Collins High School (KY) and Marcellus Vail from Collins High School (KY) hit timely shots when Vision Elite went on their run. Kybrin is a floor facilitator with handles and likes to get others involved. Dayvion is very active on the floor and finished with 16 points. He can penetrate and finish with both hands with the best of them. He finished the game with 16 points. Hamilton, another impressive player for Mustangs, chipped in 11 points. There were guys from both teams that will eventually end up playing on the collegiate level.
Final Score: Vision Elite 2019 — 69 M.A.T.T. Mustangs 65
Team ICE competed all weekend with their size and interior play. They lost in the semi-finals to Mustangs on Sunday afternoon. TN Vision picked up a couple of wins but lost a heart breaker being up by 18 points to Vision Elite and losing in the semi-finals. Louisville Lakers has some nice guards and very athletic team. Kentucky Vision, SI Shock 2019, SI Shock (Unsigned) competed at a high level as well.
Top Performers 17U:
Vision Elite 2019- 6'7 Forward– Nick Martin who plays at Knox Central High School in Kentucky. He is an athletic big that can play inside and out. He is very active around the basket and a shot blocker. Nick has a nice post-up game and can finish with both hands. He had a great weekend as he had several high flying dunks.
Vision Elite 2019- 6'1- Guard Chase Sanders who plays at Corbin High School in Kentucky. He can shoot the ball from deep and is not afraid to take the big shot. He also has the ability to create shots for others and himself. He had some big games this past weekend.
M.A.T.T. Mustangs 2020- 6'2- Guard Dayvion McKnight from Collins High School in Kentucky. Dayvion had a solid weekend scoring 20 plus points in a few games. He is super athletic and a triple threat player who can do it all.
M.A.T.T. Mustangs 2020- 6'2- Forward Marcellus Vail from Collins High School in Kentucky. Marcellus plays with a lot of emotions and he finds way to score. He can finish strong and can hit the 3 point shot as well. He is great player to watch in the open court.
TN Vision 2019- 5'11 – Guard Kelby Epley from Clarksville, TN is a sharp shooter from Tennessee. Kelby shot the lights out all weekend. He has unlimited range and shoot off the dribble. In the semi-final game he scored a game high 37 points.
SI Shock (Unsigned) – 6'2 Forward Noah Hart can flat out fill up the scoring sheet. Saturday night vs. Louisville Lakers he had game high 44 points connecting on 7 three point shots. He also put together several 20 plus games.
SI Shock 2019 – 5'11- Guard Tyler Kramer shot the bell at high percentage this weekend with several 20 plus games. He can really shoot the 3 ball.
Kentucky Vision 2019- 5'11 Guard Joby Howard from Kentucky can handle the ball well and is instant offense. Scored a couple 30 plus games this weekend.
16u Division
The 16u division was just as intense and competitive as the 17u division.
In the final game of this division the last two teams standing were Vision Elite 2020 vs Vision Elite 2021. Vision Elite 2021 was play up a division. These two teams know each other well but when the game started it was physical as both team wanted to win. Vision 2020 had the lead most of the game being up by 4-6 points until an 8-0 run in the second half by Vision 2021 to go up 51-49. The run wasn't enough as Vision 2020 overcomes adversity to win the championship. They made key plays down stretch to pull the game out. What a thriller to end the tournament.
Final score: Vision Elite 16u- 60– Vision Elite 15u- 56.
SI shock 2020 play exceptionally well losing in semi- final game. Next Level play every game to end as they didn't win a game but play competitive basketball as did Kentucky Vision 16u.
Top Performers 16U:
Vision Elite 2020- 6'2 Guard Carrey Valentine from Cincinnati, Ohio was stellar over the weekend. He is athletic and can slash to the rim. He also had some powerhouse dunks over the weekend. On Saturday he scored 22 and 14 points respectively and then on Sunday in the championship game he lead all scorers with 18 points.
Vision Elite 2020- 6'1 Guard Jemarco Mims from Clarksville, Tennessee is a lefty that is a triple threat player. He will make the extra pass and is a floor facilitator. He led all scorers with 19 points vs Kentucky Vision and chipped in 13 points in the championship game.
Vision Elite 2021- 6'0 Guard Q'Darrius Jennings from Kentucky– A strong guard that can rebound and is very physical. He is one guy to look out for this summer. He sees the floor well and has ability to find the open man. He can score in bunches and play defense with intensity.
Vision Elite 2021- 5'11 Guard Corey VanHoose from Kentucky- He can catch and shoot and put the ball on the bounce to score. He is a great team player and works hard on the defensive end.
Next Level – 5'9 Guard Shacobe Malone from Louisville, Kentucky. He is playing up a level and had several big games scoring 13, 21, 14 points on Saturday games. He is a lefty and a floor general on the floor.
Next AND 1 DTG REGIONAL TOURNAMENT will be in Atlanta, Georgia on April 21-22. There will also be a JUCO Showcase at the event as well.